---
Our NCL Family is Growing
Join us in welcoming our new chapters! In the last few months, we introduced NCL to two new states—Florida and Tennessee—and formed our three newest chapters via Zoom. We will continue to form chapters through a virtual format this year, including both mothers and daughters in the formation event. Please follow us on Facebook and Instagram to welcome new chapters as they form and celebrate our growing organization as we impact more communities across the nation!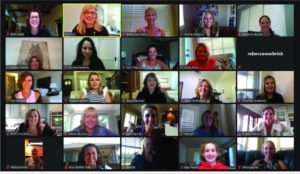 Chapter # 276 – Sarasota, FL (District 14), Chapter # 277 – Madison City, AL (District 14), Chapter # 278 – Greater Nashville, TN (District 14), Chapter # 279 – Guilford Swallowtails, NC (District 14), Chapter # 280 – Lovejoy, TX (District 16), Chapter # 281 – Bay Area, TX (District 10), Chapter # 282 – Sandy Springs, GA (District 14)
---
Download the NCL App Today
Find and download the NCL app in your App Store today to access resources, enter hours, register for events, and more!