---
Membership Drive
Do you know someone who would love the NCL Experience? Invite them to participate in your Membership Drive! It is every Member's responsibility to help sustain the Chapter through membership. Share your NCL story and get excited to bring NCL to more mothers and daughters in your community!
---
2019 Member Satisfaction Survey
Thank you to those who have provided their valuable feedback in the survey! If you have not yet taken the survey, please click below to participate in helping NCL, Inc. improve the NCL experience. Please submit all responses by September 30th.

---
Share the NCL Experience
As part of our purpose of sharing NCL with more communities and expanding our social impact, we are looking to bring NCL to new areas in which we have already received interest. If you know others who would enjoy NCL in these areas or others, please have them contact Membership@nclonline.org.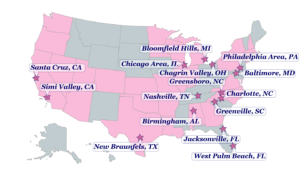 ---
Tag You're It! – Apply for a National Position
You've enjoyed the camaraderie, the shared purpose, supporting your community through NCL service. Your peers see you as an empowered woman, a true role model, willing to take on a challenge. You may have served your Chapter and District as a GLA, a Liaison, a Board Member or Council Member. Now, it's time for you to move on…or is it? NCL, Inc. still needs you, your expertise and enthusiasm. The National Nominating Committee is looking to fill key positions for 2020-2022 that you may just want to explore. Don't you owe it to yourself to take a closer look? …(Read More)

Download the NCL App Today
Find and download the NCL app in your App Store today to access resources, enter hours, register for events, and more!