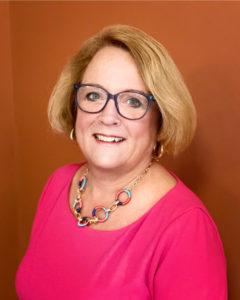 ---
Andrea is a Sustainer Member of the Carolina Lily Chapter in Cary, NC. She joined Carolina Lily in 2010 when she and her family moved from New England, and she embraced NCL as a way to connect in a new community. Andrea began serving as a Philanthropy Liaison, then served as VP of Philanthropy, two terms as Chapter President, and GLA for her daughter's senior year. She has also served on the District Level as her District's Nominating Committee Chair, District Philanthropy Specialist, and currently as the National District Coordinator for District 14. At the National Level,
Andrea has served a term on the National Nominating Committee.
Andrea is active in her Church, serving on the Care, Event and Host teams. In addition to serving with her Chapter's Sustainers, Andrea has maintained an active volunteer role at one of her favorite philanthropies, The Ronald McDonald House in Chapel Hill, before joining their Development Staff last year. Andrea and her husband Ed are enjoying this "new season" of life as their Sustainer Ticktocker daughter, Katie, embraces her life attending college in Charlotte.
Andrea has loved serving a District that is growing by leaps and bounds throughout the Southeast. The NDC role has been especially rewarding, as she had the opportunity to work directly with Chapter Presidents and their leadership teams. Andrea welcomes this exciting new experience ahead on the NCL, Inc. Board of Directors.