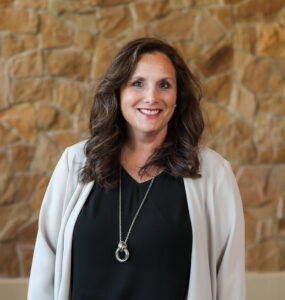 ---
Jennifer has loved her time as a member of the NCL, Inc. Colleyville Area Chapter, located in the Dallas-Fort Worth, TX area. She treasures the opportunity she has had to serve alongside three of her four daughters: Hannah (Class of 2020), Samantha (Class of 2022), and Ella (Class of 2024). Since joining NCL in 2015, Jennifer has served in a variety of leadership roles, including as a Grade Level Advisor, on the Tea and Senior Recognition Committees, Assistant to the VP Chapter Engagement and Inclusion, VP Chapter Engagement and Inclusion, President Elect, and Chapter President. These positions have provided Jennifer with the opportunity to work alongside exceptional women and develop valued friendships.
Professionally, Jennifer has worked as an integrated marketing communications executive in the natural products industry for over 25 years. She is an experienced leader of global creative teams and currently works as a corporate branding consultant. Jennifer has an MA in Non-Governmental Organization Management and an MS in Strategic Communications. She has a passion for the non-profit sector having served on several local community boards of directors, as well as serving as the Texas State President and a member of the National Board of Directors for American Mothers, Inc.
In addition to her work with NCL, Jennifer currently volunteers with the regional youth leadership development program at her church. In her personal time, Jennifer enjoys traveling with her husband and daughters, being outdoors while gardening or hiking, and is rarely found without at least a few books simultaneously being read on her iPad.
Jennifer is honored to continue her journey with NCL, Inc., as a part of the National Board of Directors. She is excited to work with the organization's stakeholders to further the mission and values of NCL to increase organizational impact throughout our local communities and enhance the member experience. She is privileged to help uphold the rich history and legacy of the NCL in this new role.