---
Heart Healthy Ticktocker Event
District 15 held a district-wide Ticktocker Retreat, where they participated in various activities in alignment with our National Philanthropy Initiative with American Heart Association. Bonnie Polvak, Retreat Chair, said that they were very "purposeful and tried to give the girls a snippet of heart-healthy activities and snacks." Watch this video to experience the fun!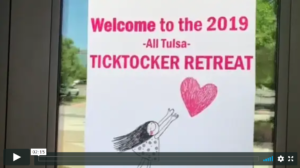 ---
Passion to Serve
Since completing the NCL Core Program, Lindsey Wrege has gone on to serve the community through her own non-profit, 321 Coffee. The pop-up coffee shop employs individuals with intellectual and developmental disabilities. Lindsay's mother credits much of her daughter's passion to the exposure she received through NCL. "Her involvement with NCL has directly led to all that she's doing in college. If we hadn't been involved in the community, I don't think she would have had an awareness or desire to start 321 Coffee. When she went to college, she realized that she wanted to continue that service."…(Read more)
If you are aware of other amazing Members who are taking on leadership roles or contributing to their community, please send us an email at media@nclonline.org with their story.
Remember to also follow NCL, Inc. on social media and send in your photos to media@nclonline.org for a chance to be featured. Check out some of our Chapters in action!