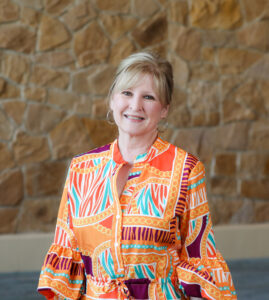 ---
Brenda is a Sustainer and Honorary Life Member of the Yellow Rose Chapter in Cypress, TX. She began her membership in NCL with her daughter, Jenna, who was in the class of 2015. Brenda has served in many leadership roles, including Chair of the National Nominating Committee, National District Coordinator and Philanthropy Specialist for District 1. In her chapter, she also served as President for two terms, President Elect, Immediate Past President, and VP Philanthropy.
With a passion for literacy and serving children in need, Brenda is President of Barkley's Bookshelf, a children's literacy nonprofit in NW Houston, TX. She holds a Masters degree in Nonprofit Administration and an undergraduate degree in Journalism. Brenda enjoys traveling with her family, reading, and needlepoint in her leisure time.
She is excited to serve on the NCL, Inc. Board of Directors and joyfully anticipates celebrating the organization's 100th anniversary!