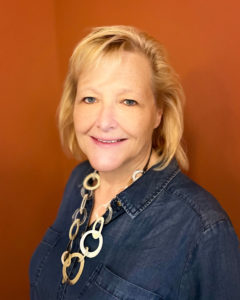 ---
Sara is an Active Patroness and Honorary Life Member of the Green Valley Chapter (Region III, District 8) Henderson/Las Vegas, NV. She joined NCL in 2013 with her daughter Mary, class of 2019, and they were later joined by Grace, class of 2024. Sara has served as Chapter President, Vice President Philanthropy, Treasurer, Standards Chair, Sustainer Coordinator and Region 3, District 8 Philanthropy Specialist.
Sara received her BA degree in Journalism from the University of Nevada, Reno and pursued post-graduate studies at the University of Nevada, Las Vegas in Hospitality Management. Before raising her children and volunteering, she had a career in Hotel Management with several hotel-casino companies. She is involved in her church and serves on the Catholic Charities Senior Housing Board of Directors. She loves traveling the world, baking, and spending time with her family.
Sara is excited for this opportunity to serve NCL, Inc. and give back to an organization that has given so much to her and her family.