Sustainers are Alumnae Members who have completed the NCL Core Program and wish to continue the NCL Experience! There are so many rewards in Sustainer Membership. You can continue impacting your community as a Member of Forever NCL.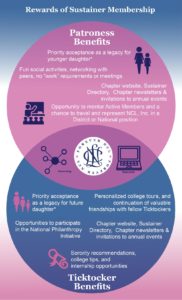 Who is eligible to be a Sustainer?
A Patroness is eligible to be a Sustainer after two years as an Active Member in Good Standing. A Ticktockeris eligible to be a Sustainer when after finishing as an Active Ticktocker in Good Standing through 12th grade. Sustainer Membership is individual. A Patroness does not need to be a Sustainer with her daughter.
---
What are the requirements for Sustainers?
There are no hours or meeting requirements – only fun! Sustainer Members pay annual dues to their Chapter, which are typically less than dues for Active Members and, if applicable, Sustainer fees. Sustainer dues and mandatory fees are set forth in the Chapter's Bylaws.
---
How do I become a Sustainer?
Select the "Inquire to Join" button, "Membership Information" from the Chapter's home page and find the Chapter's VP of Membership.
Email a request to state your interest in becoming a Sustainer.