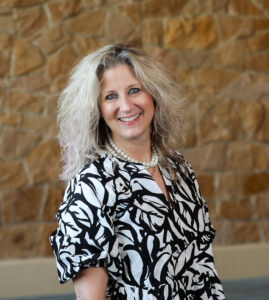 ---
Abby began her NCL journey as a Patroness in the Plano Area Chapter (Region II, D16) with daughter Evan, a Ticktocker in the Class of 2014. She had the privilege of serving as President, VP Membership and VP Philanthropy and is a Sustainer Honorary Life Member. Currently, Abby is an active member in the Texas Lantana Chapter (Region II, D15) with younger daughter Sydney, a Ticktocker in the Class of 2022.
Abby is a founding member who has served on the chapter board for five years as Immediate Past President, President, and VP Ticktockers.In her time in NCL, Abby was a member of the Leadership Development Team and served as the Volunteer Coordinator for the 2017 and 2020 NCL, Inc. National Leadership Conferences in Dallas. Whether at the chapter or national level, she values the opportunity to work with leaders across the nation in an engaging and collaborative manner.
Abby received her EdD in Higher Education with a focus on Adult Learning and is a former curriculum developer and workplace educator. Though her terminal degree is from the University of North Texas, she will always be a Horned Frog at heart and does, in fact, bleed purple! Additionally, Abby has served in the Junior League of Collin County, is a life member of the Women's Auxiliary of Children's Health, and has participated in a variety of PTA boards, church committees, and other non-profit organizations in her community.
Outside of NCL, Abby loves spending time with her family and friends, traveling, attending Barre classes, listening to podcasts, and occasionally bingeing on the latest Netflix series.
Abby is excited and honored to serve as a Director and looks forward to investing in our organization by continuing to cultivate a relevant and meaningful NCL experience for all.