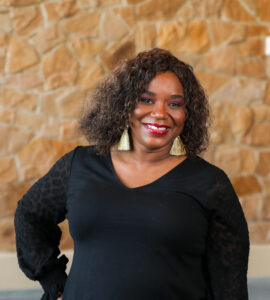 ---
An Active Patroness in the Sugar Land Jewels Chapter, Tanya started her leadership experience as a VP of Patroness Activities before serving two terms as Chapter President. Tanya is also active in NCL, Inc.'s Diversity, Equity and Inclusion Council and is currently a member of her chapter's Standards Committee and Membership Committee in her capacity as Immediate Past President. Her daughter, Leah, is a Ticktocker in the class of 2022 and has previously served on our National Ticktocker Council.
In addition to NCL, Tanya is actively involved in her local autism community as she has a son who lives with the neurological disorder. She is also on the leadership team for a large women's Bible Study, Merry Ministries, and teaches a Bible class to college-aged young ladies at her
church.
Originally from the island of Jamaica, Tanya owns a travel agency and enjoys spending time with family and friends plus exploring new destinations. Tanya is married with two sons and a daughter.
She is absolutely honored to serve on the NCL, Inc. Board and eagerly anticipates making an impact in an organization whose mission, values and visions she wholeheartedly supports.